For the latest information on COVID-19, visit our resource page.
The holidays are such a special time, often filled with the anticipation of gathering with friends and family. But with COVID-19 cases surging, we are forced to make some hard choices about how we celebrate our holiday traditions.
People across the country have become lax about the basic precautions of properly wearing a mask, washing hands, avoiding unnecessary trips, or maintaining physical distance. We're also in the middle of flu season which only adds to the strain put on health care facilities and workers.
The best way to avoid spreading COVID-19, or the risk of contracting it, is to cancel plans for any holiday gathering. Don't risk the health of a loved one for one holiday season when the likelihood of being able to celebrate safely next year has been improved with recent news about two potential vaccines.
There are some steps you can take as a host and a guest if a holiday gathering is not negotiable.
Take It Outside
Most people look at how they're going to get everyone around the table for that special holiday meal. This year the focus will be on spreading everyone out and keeping the gathering manageable.
AltaMed's Medical Director of Infection Protection Sherrill Brown, M.D., recently told Good Housekeeping that eating outside and maintaining distance between guests can reduce a lot of the risk associated with a holiday dinner. Immediate family members should be the only ones allowed to sit next to each other. Seating should be assigned to help keep everyone as safe as possible.
If sitting outside isn't feasible, it's important to keep the air flowing inside. Point fans toward intake vents and open screened windows or doors to improve air flow. Again, maintaining distance is vital.
If You're Hosting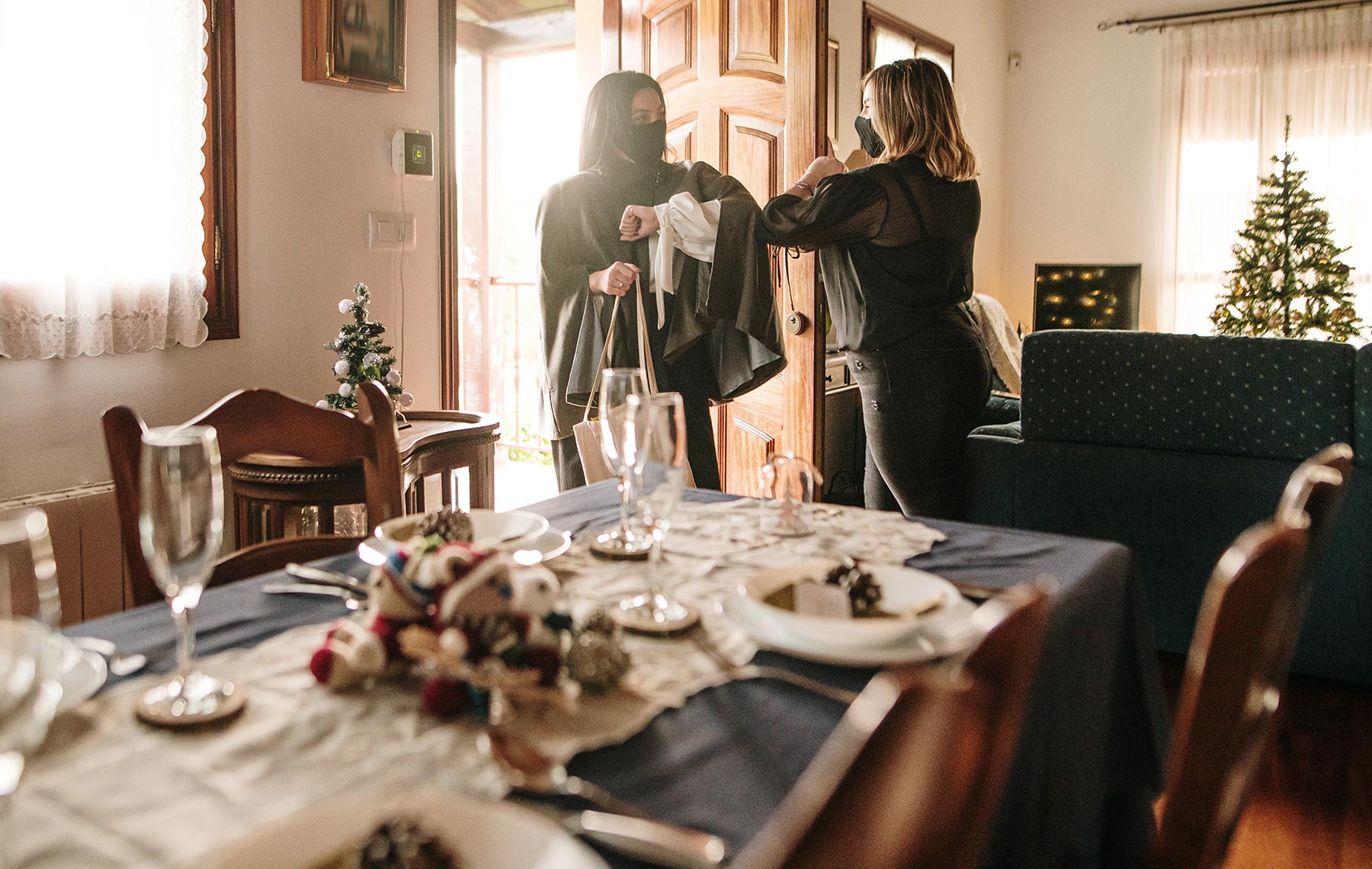 The more the merrier doesn't work this year. The more people there are at a gathering, the greater the potential for transmission. Scientists and health experts believe the most recent surge in cases is the result of casual dinners, game nights, and even carpools. These activities seem safe because the groups are small. Those gathered don't consider who they may have been exposed to or who at the gathering has been exposed.
The California Department of Public Health created guidelines for those who plan to invite people for holiday gatherings.
Limit attendance to no more than three households.
Gather outside.
Don't gather for more than two hours.
Keep masks on when not eating or drinking.
Don't sing or shout.
Everyone should maintain distance even when outside.
Don't worry about breaking out the fine dining ware for the holiday. Serving needs to be sanitary, so one or two people should prepare plates for everyone. Don't have a buffet line or pass bowls of food. Plates, cups, and utensils should be single use to reduce the risk of transmission. If space is tight, eat in shifts. Let the kids go first followed by the older folks. That way some of the group is still masked.
If You're Visiting
The holidays are often some of the busiest travel days with people packing on planes to visit far-flung relatives or coming home from colleges out of state. This year, if you must travel, drive. There is still the risk of encountering people in gas stations, at rest stops, and when picking up food. But the number of people you encounter is much less than those in the confined space of an airport, plane, bus, train, or station.
Reconsider plans to stay with family. While it seems like the natural thing to do, it's impossible to know whom they have come into contact with, or whether you encountered anyone in your travels that could put them at risk.
Before booking a hotel or Airbnb, make sure you trust the sanitizing procedures. Don't feel awkward calling to ask about their cleaning policies or to find out the last time someone occupied the space you reserved and how that space was cleaned.
Mask Up and Keep Distant
Even though you may be visiting people you care for deeply, it is crucial to wear a mask and maintain distance. Close contact still poses a risk. Once you are indoors with anyone you become exposed to whatever they may have, which makes it important to keep your mask on.
The people you live with on a daily basis are the only ones you should feel confident in being close to or contacting. Honestly, you have no idea where anyone else has been.
We're Here for You
AltaMed can provide information to you about the best way to protect yourself and your family during the holidays from COVID-19. We have a number of resources that you can share with those you plan to gather with. Learn more by calling (888) 499-9303.
AltaMed can provide information to you and your family about the best way to protect yourself and your family from COVID-19. To receive the latest news and information about the coronavirus pandemic, sign up today.